My baby girl is growing up MUCH too fast. This year she is a 6th grader and doing all the lasts for her elementary career. Last student of the month ceremony, last Halloween Pumpkin Run (this year she had to walk it due to a stress fracture in her foot), last Halloween dance, last movie nights, last Valentine's dance, etc. I've been trying to get to school and do as much with her as I can. I've been lucky enough to attend 2 fieldtrips with her, get to every class party, but I've been letting her do her own thing at the dances and movie nights. Mom doesn't want to intrude on her friend time.
Tonight was her Valentines' dance and it's a BIG deal for the 6th grade. They get to pick out the music, they nominate a king and queen, boys ask girls to go to the dance with them (although I don't know what that exactly means in 6th grade?), and they go ALL out for their outfits. Like high schoolers do for Homecoming, these girls do for 6th grade. It's INSANE! Jojo is super tall (she's 5'3 at age 11) so she can fit into clothes in the junior department. This is usually a good thing because she's tired of the cartoon characters and hearts on the t-shirts. But shopping for dresses was a bit rough. Most of the junior dresses were strapless or had built in padded bras (ummm...no way!) and the girls department were too babyish. Luckily within 5 minutes she found a really cute dress that had spaghetti straps. She was happy and I was happy so it was a win-win.
Tonight I got to do her hair, put on some makeup, and help her with pantyhose and I had a great time. But when it came time to take pictures, I got a bit emotional. My little girl is growing up. She has no trace of baby fat on her anymore, each day she gets prettier and prettier and looks so sophisticated. We smiled for pictures and made a big fuss out of the whole thing (she was also nominated for Queen but lost to her best friend. She was okay with that because she didn't want to dance with whoever won King. lol). As I drove to the dance, I kept sneaking glances at her, sitting in the passenger seat, super excited and looking well beyond 11 years old.
I wish I could find the magic potion that keeps her and her brother tiny and innocent.
Jojo and her Daddy
Jojo and I
Jojo and Jakey
What a beauty she is!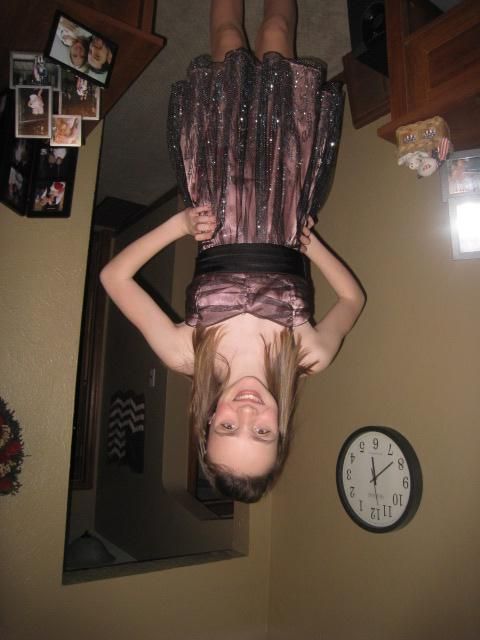 If anyone does find that magic potion, would you send me soon ASAP please!