Jojo has been wanting a desk in her room for quite awhile, but we just couldn't fit one in her room. She tends to be quite a pack rat and stuffs things wherever they will fit...drives my OCD/anal self insane! Recently we had a free day and I told her we were going to go through EVERYTHING in her room. As we started cleaning and getting rid of things I looked at her overflowing bookcase and an idea popped into my head. "What if we turn that into your dresser, have it fit under your bed, and then you'll have room for a desk. You'll have to get rid of quite a bit of stuff, but we can make it work." I wasn't sure she'd be okay with throwing things out, but with the idea of a desk in her room, she was all for it.
Here is her bookcase after we took everything off it.
When Jason got home, I picked his brain to see if my idea would work. I wanted it to fit under her bed and be easy to pull out and push back in. He sent me to Home Depot to get some EZ Sliders and some rope (we happened to find some in white and pink...extra bonus!) And then we headed to Office Max to look for a desk. They had a back to school special with a desk, small bookshelf, rolling chair (in pink!), and a floor mat for a great deal!
When we got home, Jason already had the plywood on the back of the bookshelf. He drilled two holes for the rope handle, then we carried it inside and slid the EZ Sliders underneath and VIOLA! We had a storage spot for clothes.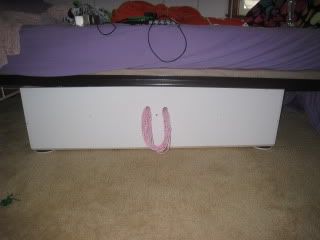 It took a full day for me to put together the desk, bookshelf, and chair, but the finished product is so cool. Just what my munchkin dreamed of. Her room isn't too girly and I think this look will last her many years.
It's also nice to have a handy hubby to help make my visions a reality.
Here's how her room turned out: